by Dylan Williams
Without par was Mort Meskin. Perhaps one of the greatest artists of comic books died this year. As with many lesser talents his name and talent have received little to no recognition (and a
horribly
researched eulogy in the Comics Journal).
Born in 1916 in Brooklyn, New York to Max and Rose Meskin. At Tilden High School he became art editor of the school paper. As a kid he immersed himself in the world of the pulps, the Shadow was his mainstay. He was attracted to the pulp art of Ed Cartier and most specifically the great Herbert Morton Stoops (whose work appears in/on almost every issue of the magazine Blue Book in the twenties and thirties). Influences would also include Austin Briggs and comic strip greats Milton Caniff and Noel Sickles.
After graduating high school he attended the Art Students League of New York and the Pratt Institute from which he graduated in 1938. He immediately went to work as a comic artist (a booming industry at that point) for the Will Eisner/Jerry Iger comic shop. There he drew the Sheena strip which appeared in Jumbo Comics.
His next work was for $5.00 a page at MLJ / Archie in 1940 at the Chesler comic shop (comics were produced almost completely by studios or shops in the first fifteen years of comics). In 1940 he drew the hero stories of the likes of the Press Guardian, Ty-Gar son of Tiger and Dick Storm. His early work was inventive and unique, but most of its appeal lay (as with most of his work) in his storytelling ability. His careful selection of perfect shot to illustrate what is taking place. In 1941 Meskin quit MLJ to work for National/DC Comics.
He was now working for the biggest company in the business. He was given the character
The Vigilante
to draw. On this strip he began to shine and attract the attention of other artists. With story after story he invented a new language of visual dialog of stunning graphic storytelling.
"Citizen Kane (1941) influenced us a great deal, all of us. We were very excited about it and spent quite a bit of time discussing it, employing its elements in our work. There was a contest as to who saw it the most times ... "
Meskin told Jim Steranko. Meskin saw it fifteen times.
Meskin soon took over the job of artist on
Johnny Quick
at DC. On this character he continued to push his storytelling. These stories aren't quite as splashy as the
Vigilantes
, but there is even more clarity of story and intent of the image. In Johnny Quick he would develop a way of illustrating speed simply by having the character appear many times in one panel. At this point he clearly demonstrated a distaste for any kind of stock shot. He also worked on
Starman, Wildcat, Batman
and many covers for DC.
As is the case with many artists in the field he didn't always have time to ink his own work, and so he worked with a number of inkers in his career. Meskin worked chiefly with three major inkers during his career who all started at DC with him. For the first couple of years at DC a teenage Joe Kubert would ink work well beyond his ability at that time. Meskin also worked with George Roussas and Jerry Robinson at the Bob Kane
Batman
studios.
It's there that he began his collaborative career with top Batman artist Robinson. Meskin and Robinson left DC after World War II and set up their own shop and produced some of each other's most famous work.
The Black Terror, The Fighting Yank
and
Golden Lad
(pictured) among others for companies like Harvey, Standard and Sparks. Meskin and Robinson took turns teaching at the Art Students League during this time. Meskin was sickly and during this time (pre 1950) he spent some time in the hospital.
Meskin's work at DC had caught the eye of Joe Simon (partner of Jack Kirby) who by the late forties had developed his own lucrative studio with Kirby. Simon quickly gave Meskin a job at the studio. It took some time for Meskin to feel at home drawing (after his time in the hospital) but Simon was willing to spend time coaching him and his partner Robinson and friend/inker Roussos who inked his first work for Simon. For the studio Meskin seemingly drew more stories than before or after in titles like
Black Magic, Headline, Justice Traps the Guilty, Capt. 3D, Young Romance, Boys Ranch
and
The Strange World of Your Dreams
(a title he came up with). Much of this work is still easy to find and quite good. All the time working for Simon and Kirby he would entertain fellow studio artists with tales of life and love in the hospital.
After the Comics Code was effected in the mid-fifties the Simon and Kirby studios went under and Meskin went back to DC with George Roussos (Robinson entered the world of newspaper strips). Along with Roussos, Meskin pumped out hundreds of stories for DC's
House of Secrets, House of Mystery, My Greatest Adventure
, and others (all still relatively common and cheap). He would sometimes ink his own work and sometimes work with Roussos. The self-inked work is some of his least splashy and greatest work in storytelling. He stopped using splashy inking techniques, stopped using splashy layouts and surpassed almost any comic storytelling ever done. He worked at DC the second time from the mid-fifties to the mid-sixties.
After quitting comics he embarked on a long career as a storyboard artist for the advertising firm BBD&O. He retired in 1982 but kept drawing and painting.
He is survived by his wife Molly (whom he married in 1967), five children, five grandchildren and two great- grandchildren.
I've avoided devoting much space to my opinion of Mort Meskin's artistic merit simply because his work inspires me beyond words. His facility with this most difficult of mediums is enough to inspire us youngsters for the next millennium, so I'll shut up ... go buy some of his comics.
"Mort Meskin was a consummate professional, dedicated to his work. A great talent." - Jack Kirby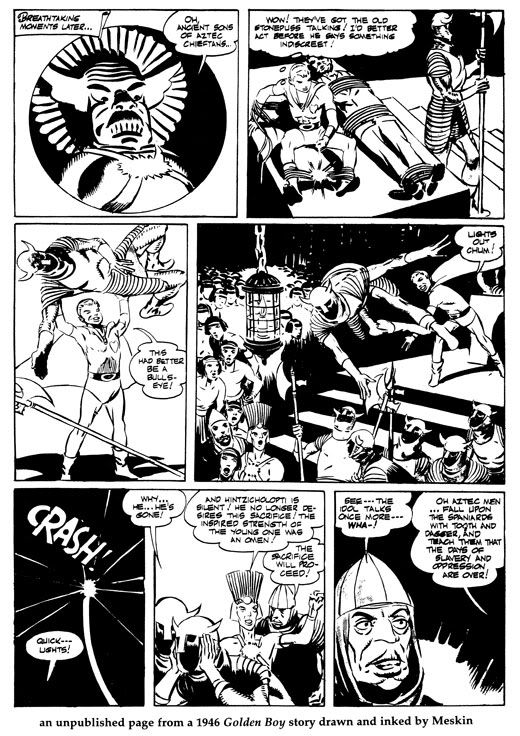 This essay was originally published in Destroy All Comics V.2 #4 in January of 1996. Many, many more examples of Mort Meskin's comics and artwork can be found on the website,
http://mortmeskin.net/
- which was originally put together by Dylan.